In the Tibetan Buddhist tradition of Lojong or "mind training" there is a special form of meditation called Tonglen, which is a practice of thinking of sending and taking. On the outbreath, you imagine sending the things you want in the world out into the world. The things to think about add benefit to the world, so they probably include compassion, love, gentleness, getting what you need to live, and so on. On the inbreath, you take away the things in the world that you don't want to be there; things like pain, pollution, isolation, unmet need and so on.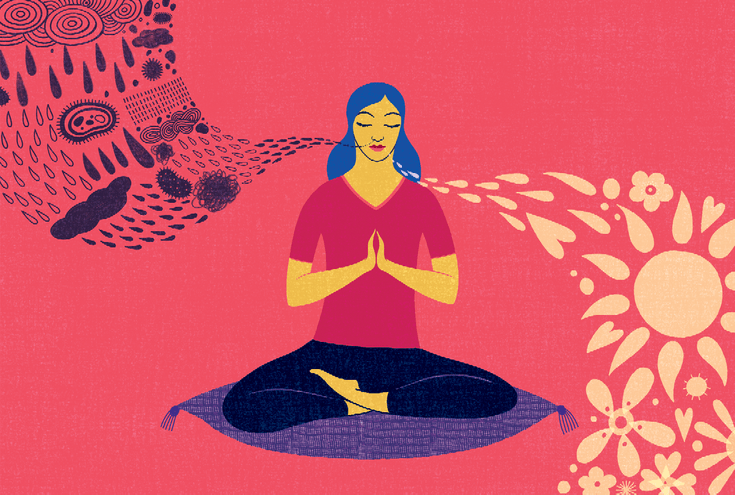 In the Sonic Sandbox, the basic improvisation exercise (also called toning) is a practical demonstration of the experience of dynamic (or interactive) sending and taking. We all take a breath together and initiate our own sound together. This sound is an expression of our feelings in the moment. It can be made either with or without intention or much thought. It really doesn't matter what the sound is. All that really matters is that everyone contributes. Each person's sound is a gift to the group, without which, music cannot happen.
I ask that people hold their sound for the length of one breath. I also ask that they listen to their sound in combination with all the other sounds, just letting them be, without needing to judge the sounds, instead noticing what happens when all the sounds coexist, and if they like, noticing interactions that interest them.
We do this two times for the length of one breath. Then, the third time, I ask people to keep making sounds, which means they have to continue to take breaths in order to be able to make sounds. I also ask them to start copying the sounds that interest them, and to move back and forth between making their own sound and copying the sounds that interest them. I ask them to do this on their own time, following their own impulse to either offer sound or copy sound. We need make no attempt to consciously or deliberately try to coordinate ourselves. If we just follow our impulses, that coordination seems to start to happening without effort.
Making sounds is sending. Copying is sending. When we breathe in, we are taking — offering a cessation of sound production (which also makes a small sound that can be heard if everyone is doing the same thing). The taking is the preparation for the sending. But the sending can be something primarily from our own impulse, or it can be something primarily taken from another's impulse (copying).
The copying is often experienced as support by those who are copied. By switching between sound initiation and copying each of the others who make sounds, we can create a group where everyone feels like they are a part of the group and are being supported by everyone else. By doing so without a plan to do so, the support feels fortuitous, which is different that if we deliberately take turns copying everyone else, one after the other. However, whether we plan the support or it happens fortuitously, being a leader supported by other people's copying often gives people confidence in their sounds and that makes them more willing to both lead and follow, solo and support, all of which add interesting changes when improvising music.
Meditation is typically practiced with a primary focus on one's own experience, even if we are meditating in a room full of other meditators. When we add sound, we create another form of collective meditation, where we can observe the impact of our actions on others. We can observe all kinds of different ways of interacting with others.
In most social interactions, people take a lot of care to make sure they do not harm others with their behavior, and the Sonic Sandbox is no different. However, when making music from nothing, where we have no instructions about what kind of sounds we should make, people often crave instruction. We want to fit in. But how do we fit in when we don't know what we are doing? How do we fit in when we have no prior agreement about how we are going to fit together?
Traditionally, most social groups have a history, and it is a settled issue of who will lead and who will follow. But in the Sonic Sandbox, we have no prior agreement — except that the facilitator will provide a signal (a breath) that indicates we are to start. Other than that, the facilitator is no different from any other member of the group. In a group where everyone is pretty much equal (other than the agreement about who will start the effort), we have to quickly solve the problem of leading and following, giving and taking, if we want to connect with others and build trust with them and create a sense of cohesion of the group.
Sonic Sandbox is a dynamic experiment in the solution of that problem that is based on the principle that everyone can lead and everyone can follow and be supportive and that all roles are equally important and that everyone is equally capable of filling any role at any time. All we need to do is figure out, for each moment, who is playing what role. The amazing thing is that if we all listen, and we all have faith that the process will be equally supportive for all of us, we quickly find ourselves making amazing sounds that can, indeed, be labeled as "music," should we choose to do so. Of course, by that time, we're having so much fun, it really doesn't matter what label we apply to our efforts.
Once people learn that the process is trustworthy, it stops being necessary to agree that someone should play the role of the facilitator. All that is required is that we agree we get together for the purpose of sonic giving and taking. As soon as we get together, people are aware that the process depends on listening and copying, and so they start doing so, even without instruction or permission. It becomes the process of the group and people move into awareness of and implementation of actions consonant with these rules at the agreed on time and place.
The consequences of playing by these rules include fun, but aren't limited to fun. Some of the consequences have an effect on the way we think. I can't describe these changes at this point. I know they're there, but I'm not exactly sure what they are. However, one impact this work has on me is that I feel a sense of connection to others that feels very close and is quite surprising compared to the way I feel most of the rest of the time.
The toning exercise seems to create invisible and satisfying bonds between people. These are not restrictive bonds, but welcome bonds. I think they are welcome because we know if they start to seem restrictive, we can easily introduce some new sound and that will quickly change what is going on. Others will copy and the music will change and it will always be a collective reflection of what is going on individually for each person. No one will ever be stifled and no one will ever be dominant for very long, and this is the closest we can get to collective self actuation.
I love this process and I love playing with people this way — and then, my mind often takes another step, and I wonder what it would be like if this way of interacting with others could be incorporated in other ways that humans organize themselves. What if these principles of dynamic leadership and supportership were applied in other kinds of organizations, such as community groups or corporations? Could these principles help organizations of people become more adept at reaching their goals? Could these principle ameliorate some of the more dehumanizing aspects of corporations and other organizations? Could they make relationships more satisfying in any group of people, no matter what its purpose — whether organizations of people who are blood relations or organization brought together around projects or for social purposes?
Let me know what you think. Let me know if you would like to try these techniques. At this point, I would be happy to go anywhere and work with any group to see how this form of play affects trust, connection, creativity, problem solving and cohesiveness within that group.